So I'm on the board of the Pasadena Musical Theatre program, and we get to do all sorts of fun and cool stuff. In addition to year-round programs, we put on two big musicals every summer — one for 4th-6th graders, and one for 7th-12 graders. So here's what I get to do:
ADVERTISING DESIGN
All postcards and posters and such are developed by me, in concert with the directors. Here is the keyart for the two shows this summer:
The Jasper in Deadland keyart was developed with strong direction from the composer/conductor, Ryan Scott Oliver, because this is his baby. I'm very excited to be helping him bring this original musical to life.
PRODUCT & BRAND DESIGN
As part of the story for Jasper in Deadland, the protagonist crosses the river Lethe (get out your mythology books!) and keeps getting offered Lethe™ Brand water, so we decided that we needed to offer Lethe™ Brand products as well.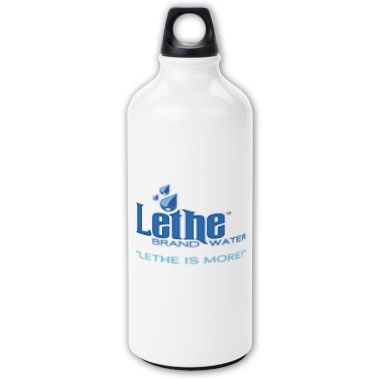 It's a clever, simple brand, but people are loving it, and I expect that we'll see tote bags and water bottles with this logo all around campus in a week or two…
VIDEO
I have found a way to use the Canon 7D for quick, news-gathering-style video: 1) simply accept the limitations of the on-board microphone, and 2) stop the iris down a little so things don't go out of focus so quickly. And so, every day of the program, we have posted a 2-minute recap, showing warmups, rehearsals, discussions, and antics of the kids in the program. It's a win-win for the families in the program: parents get to see what's going on, students get to show their day off to their friends, and PMTP gets added exposure through the hundreds of views we have gotten on Youtube. Here are two of the most popular recaps so far:
Filming these giving me a chance to understand how to choose shots quickly and follow the action. Everything is handheld except for performance video.
IN OTHER NEWS
Tomorrow (I hope) I'm going to roll out a press release announcing one of the newest projects that I have been working on. We're very proud of the design work that Hearken Creative is doing these days, and I can't wait to update my portfolio. It's just a busy time of year for us!